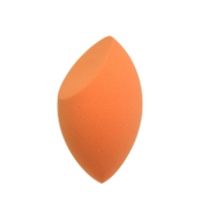 Beauty Blender dupe?

I love how affordable this is. I bought the Beauty Blender before but didn't want to spend $20 on a sponge so I returned it. I wanted a cheaper alternative and after researching on Youtube if this sponge was really a dupe, many people say it's not the same but it's the most comparable so I decided to give it a go. This sponge works fantastically to blend out my foundation. I love the flat side it ...read morecomes with and the pointy side to get into every nook and cranny when highlighting. However, I hate that it absorbs a lot of product. Normally, I apply my foundation with my beloved Elf brush but wanted to try something different. With my brush, I only need a nickel size amount of foundation on the back of my hand. With this sponge, I feel like I have to use three times the amount of foundation because this sponge absorbs most of the product. Such a disappointment. It gives my skin a pretty nice finish but maybe I should reconsider purchasing the Beauty Blender again. At least with that sponge, I don't have to worry about product buildup inside my sponge.

One complaint

I love how soft this sponge is. It was $5 at Ulta. The flat side was great for applying liquid foundation, especially if you want heavy coverage. The pointy tip helped get the nooks and crannies around the nose. My only complaint is no matter how many times I squeezed the sponge there always seems to be water still inside it.

perfect dupe

After watching several makeup tutorials on youtube I decided it was in my best interest to purchase a beauty blender, but once I saw the price I immediately turned a cold shoulder. Thankfully I found this sponge! It blends out my liquid makeup perfectly without any streaks or marks like some makeup brushes will do. A must-have buy for anyone working with liquid foundation or other liquid products.

Back
to top