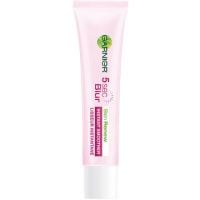 Pricey but effective!

I saw a You Tube review on this product from one of my favorite beauty bloggers, so I decided to give it a try. I don't think that primers are necessarily well, necessary. LOL However, this one wasn't too bad. I have pretty decent skin to begin with but I do have large pores around my nose and cheeks. I have used the NYX Pore Filler and the Maybelline Pore Eraser primer, and honestly, the Garnier ...read moreworked just as well as the others but at a much higher price point IMO. This tube runs about $16 which is about twice as much as I would want to pay for a primer, but on the plus side, it comes in a fairly large tube and carries 1 oz. of product. The product is a pale pink and has a whippy, mousse texture which is quite comfortable on the skin! The texture very much reminds me of NYX Pore Filler but lighter and airier. I probably wouldn't purchase this again since I can find something just as effective for less, but this is a good primer so if you are looking to try it, I don't think you will be disappointed! (Note: I was actually really surprised with the negative reviews on this product. Other than the price point, I thought this product was highly effective at smoothing my pores and skin, making my makeup easier to apply. If I didn't have large pores, I actually wouldn't use a primer but this helps to fill them in.)

Hmm....

I'm not a big fan of primers so I'm always apprehensive about trying them. I bought this on sale. It wasn't bad and maybe it'll work better for the winter/colder months than summer/warmer weather. Apparently my dog was excited about me getting it - he decided to open and start chewing on the tube for me.

Not worth the money

Did not like this product at all. You can buy similar products for less that work a lot better. It also left weird blotches on my face that didn't go away or a couple of days.

Back
to top