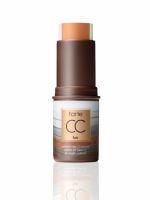 Tarte Colored Clay CC Primer
Not worth the price....

I was lucky enough to get this for $18 when Ulta had their sale because I was not about to pay $34 for a primer. First of all, this applies smoothly and dries matte which is perfect for my oily skin. However, even with the color correcting properties in this, it did little to cover my redness and hyperpigmentation. This has a very light coverage even when I tried to build it up. For a $34 primer, I'm expecting it to do something for my skin instead of just making it silky smooth.

Phenomenal CC cream

This CC cream works like a charm! I do like the Tarte BB cream, but thought that the hype is not worth having a CC cream as well, but I was wronged the moment I tried this on. The stick applies like a dream, so smoothly. In my opinion, the best way to apply this is by literally drawing lines on your face. I like to draw streaks on my cheeks, forehead, nose, and chin, and then blend in the lines to...read more spread the CC cream, adding a few more lines with the stick if I need more coverage. The green and purple colors really do work to improve my complexion, I noticed, and they flawlessly blend into your skin to look natural. When I applied the CC cream, I received lots of compliments on how radiant and smooth my skin looked. I am impressed with the results, not to mention that since Tarte makes most of its products using natural ingredients, I don't feel guilty about using this CC cream every day. Moreover, I think this can be worn on its own, even though it's kind of a primer. You can also apply foundation on top of it and it would still feel light. Personally, I don't have too much to cover, so I apply this CC cream and lightly dust some translucent powder over my T-zone (because I have oily skin). For those with dry skins, I would only suggest moisturizing your skin a bit more, just because of the mattifying effect. The CC cream's finish is matte, yet it brightens your skin, and it is long wearing. Only downsides for me about this product, is its price - $34; and it only comes in 5 shades for now. I did find a shade that works well for me so no complains about that, but just an FYI. Overall I'm really impressed with the Tarte CC cream and it's totally worth the try!

Back
to top