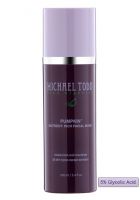 A Pumpkin Powerhouse to Cleanse and Moisturize

When you use this, be prepared for the appearance, texture, and scent of canned pumpkin, not an artificially sweet mix. It is a completely organic product, especially made to moisturize and nourish. This pumpkin has a bit of "kick" (tingle) to it while it's on your face and neck. Those are pumpkin enzymes, antioxidants, and glycolic acid working hard to dissolve impurities like dead cells and c...read morelean pores completely. These exfoliators improve elasticity, disguise the appearance of fine lines and wrinkles, and impart a lovely luminosity and a silken feel. Skin feels tighter, more pliable. This is a great mask for young women troubled with acne and older women troubled by signs of aging. The mask should not be used for those with sensitive skin, however, as experienced by one of the reviewers on this site. Apply after cleansing in a thin, even layer, waiting five to ten minutes. Even if your skin reacts very well to this, Michael Todd recommends using it every week or two. Other ingredients are sugar cane extract, bilberry fruit extract, orange fruit extract, meadowfoam oil, cinnamon bark, Vitamin C, ginger root powder, and acai fruit pulp. My skin feels mildly warm once the initial tingle fades away, and the results are well worth the time spent to purge and nourish my skin. I can't wait for my next treatment!

New Addiction

Michael Todd Pumpkin Mask is perfect. I find that if I thoroughly exfoliate my skin just before using this mask it tends to sting a bit. It doesn't burn it's just a slight tingle. Afterward my skin is so soft and smooth and ready for anything. My serum, moisturizer, makeup, etc. apply so much better

Love it!

I got a sample and ended up buying full size. It definitely tingles and burns a little when its on, but when I take it off, my skin is soooo soft and moisturized! I love it!

Back
to top