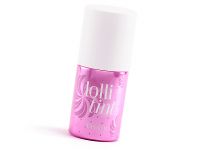 Benefit Lollitint
As low as
It's Good at Best

So, I love this color. I have medium brown skin with yellow undertones and anything with a purplish hue looks really nice on my skin - the reason for buying this tint. I had received a small sample from sephora and loved it so I bought the tint. Two issues: the applicator for the mini sample tint made it very easy to swipe on to the cheeks but the large, normal size comes with the regular nail pol...read moreish like brush that the benefit cheek stains come with. The problem is that this product dries really quickly so if you apply the three dots and don't rub them right away then you end up with three stained dots on your face. If they changed the packaging into something more like a lip gloss sponge, this would eliminate the problem (that's what the sample has). So for application, I'm not a fan. It's not easy on the go or in general and the product is super dry. All four stars are really for the color which is gorgeous. I use this item sparingly but it's definitely not part of my regular set of beauty items.

not impressive

I don't love this. I prefer NARS or MACs for highlighting. I think I just find the application process too messy. I feel this way about all of benefit's highlighters I've owned. It might be better in a tube. Also, the color is a little clownish. I've worn it twice and probably won't use it again.

Lollitint Love

I love lollitint! Such a pretty lip and blush color!

Back
to top