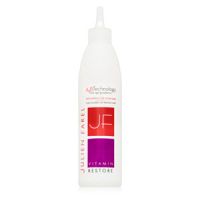 Julien Farel Anti-Aging Vitamin Restore
As low as
Hydrating Treatment

I have overly processed ends due to years of coloring my dark hair ombre. This treatment definitely helped my ends, but left my scalp greasy overall. I've only been using this for a month, but I think there are better products on the market like Kerastasse.

The MOST hydrating treatment EVER!

Vitamin Restore is the most hydrating product I've ever used! (especially for those who have colored/treated hair!) I had recently colored my hair and I found that my hair was beginning to look dry and feel unmanageable. So, I was on the lookout for a new hair product that would help my hair feel soft again, even after coloring it! My colorist suggested I use Vitamin Restore to help my hair color ...read morestay vibrate and hydrated at the same time. My colorist told me that their haircare directly targets the scalp to help you grow healthier hair and restore your hair to its virgin state. I was skeptical at first, but once she used the treatment on me, I think I was convinced... When she massaged the product into my hair, I automatically felt a cooling sensation. I noticed my hair looked shinier already even before my blowout! After my blowout, my hair was silky smooth and shiny. I was extremely surprised that one product could make it so shiny! My hair was silky soft when I ran my hands through it and it was not tangled or frizzy at all! My hair definitely felt healthier and shinier than before. I wanted these same results for myself at home, so, I quickly went to purchase Vitamin Restore online so I can treat my hair at home as well. At first I was scared that I wouldn't be able to use the product as effectively by myself at home. However, I realized that using it at home is actually very easy to do with the pointed applicator that comes with the bottle. I now use Vitamin Restore once every week, replacing my shampoo and conditioner and my hair is loving it so far! I highly recommend it for anyone wanting to bring hydration back to their colored hair!

Back
to top