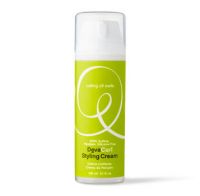 DevaCurl Styling Cream
As low as
Left my hair feeling greasy!

I have heard so many good things about DevaCurl products for curly hair and especially that it's gentle and moisturizing for curls. I have a curly wavy texture that I manipulate using certain products to keep it from frizzing up; this product line has so many followers to it that I wanted to root for it and give it a full 10, but the fact that it left my hair so greasy even from using only a dime...read more sized amount was disappointing for me. The only thing I love about this product is the smell; it is absolutely delicious! It smells so exhilarating and fresh; Otherwise, I really only have negative things to say about this cream. This is a cream so it feels very thick and you pump it into your hands so be careful with how much you use. My hair is mid back length and using a dime sized amount seemed too great for me to distribute it all over my ends and just a tad through my mid shaft. Even using that amount was too much, after letting my hair air dry and putting it down it was super greasy and disgusting feeling. I immediately put it up and was looking forward to washing it. However, it did keep my hair from getting frizzy (probably because it was so weighed down by the product). I have experimented and tried using even less than a dime but still got the same results. I'm so disappointed with this product, and if this is any indication with how the rest of the DevaCurl line is, I'm not buying! Especially since this product is $24+! Get outta here! A 1 star rating is because it smells so darn good, otherwise, stay away!

I want to love this product, but don't

I have tried many, many styling creams for my thick, coarse, wavy hair. My hair tends to be really frizzy, so I was excited when DevaCurl finally came out with a cream. Unfortunately, it doesn't work at all for my hair. I end up either needing to use too much, which then leaves my hair sticky, or if I don't use enough my hair feels like a tangled mess. It's not silky or slippery like other creams ...read morebecause it's water based, but it does okay if you add some styling oil to it. If I add a bit of argan oil to it I can get by, but I won't buy it again.

Back
to top