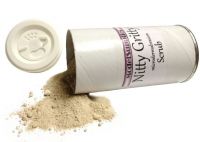 ModelSupplies Nitty Gritty Microdermabrasion Scrub Skin Lightener Ascorbic Acid
As low as
AN INCREDIBLE WAY TO NEW, FRESH, SOFT, BRIGHTER SKIN

I am so thankful for "CharlieCat31's" review of ModelSupplies' "Nitty Gritty Microdermabrasion Scrub Skin Lightener Ascorbic Acid." Her review was so informative that I ordered it immediately as a "rush" item from Amazon. After a few days of use, my skin is already incredibly improved! Like "CharlieCat31," I use Clarisonic to cleanse and make sure to exfoliate (twice weekly). Most recently, I h...read moreave turned to Peter Thomas Roth's "FIRMx™ Peeling Gel," but at $48.00 a tube, it goes quickly, especially as my husband is now exfoliating with me. "Nitty Gritty" is composed of super-small, pulverized walnut particles. Ground nut shells have the possibility of creating micro-tears in your skin and possibly creating problems, but these are so tiny, so miniscule that it is more like a talcum powder than a scrub. Once I saw that, I was much more at ease. Aluminum microdermabrasion crystals, jojoba beads, Vitamin C (which lightens skin), and clay are some of the other ingredients. The appearance might be a tad unusual to some, but it reminds me of the "Gardener's" hand scrub which Crabtree & Evelyn used to produce and I used continually. It is a light brown powder, reminiscent of and as smooth as cake mix. There is no artificial fragrance; the subtle scent is a bit like soil. After cleansing skin, make sure your face and neck remain wet. You don't need a lot of the paste. The directions suggest that you scrub gently, avoiding the very sensitive eye area, moving in tiny circular motions. Be sure that you concentrate--albeit easily--on any particular areas which give you problems, such as your forehead, nose, or chin if blackheads or even wrinkles are a nuisance. Rinse very well to dissolve away all of the particles. I like to moisten my hands and treat them to this as well for satiny, brighter skin there. Now, smile as you stare in the mirror--you will find baby-like skin looking back at you, with pores and creases minimized, as well as any area(s) of hyperpigmentation lightened. I simply cannot STOP feeling my face and neck--are they MINE? They are silky beyond belief, absolutely luminous! This product claims that it is like multiple razor blades which remove dead skin and renew. "CharlieCat31" says it is a must-have for anyone with skin, and I could not agree more.

Amazing results! Best microdermabrasion/scrub ever used!

I came upon this product by accident after hearing about another product from this brand. The Nitty Gritty Microdermabrasion Scrub is the most productive at home microdermabrasion/scrub product I've used and VERY different. It's a dry powder. You shake some into your hand, add a little water and rub the paste onto your skin like you would any facial scrub. This stuff needs to be, no... MUST b...read moree in the hands of every woman in America!! It's that amazing - that skin changing! I regularly use a Clarisonic to cleanse my face and Dr. Denese's Microdermabrasion cream to exfoliate and not many other exfoliating products have impressed me. Nitty Gritty is IMPRESSIVE! I'm 44 and while I have always taken very good care of my skin, there are issues I would like to improve. After one use my skin was softer, smoother and more renewed than I can remember it being in years. My fine lines and wrinkles were less noticeable, my pores super clean and my skin glowing! Before rinsing I move the paste to my hands and nothing has ever left them so soft! My hair even feels softer to the touch because the skin on my hands is so new and fresh. This is an added use of this miracle powder. It's extremely effective and not irritating. After just a couple of uses my skin has improved even more! Fine lines and wrinkles are noticeably less visible and a small dark area of sun damage is considerably lighter. I can even feel my other skin care products and hand lotion absorbing into my skin better than before. The price of $12.99 for 4 oz is so extremely affordable - especially considering how little is needed for each use. It's worth every penny and then some. This product is available on amazon and eBay - search ModelSupplies Nitty Gritty or go to the ModelSupplies eBay store and look for the little shaker container in the Health and Beauty category. This is a must have for anyone who wants better looking/feeling skin!! Quite frankly, it's a must have for anyone with skin!!

Back
to top