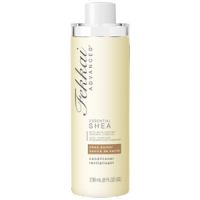 Serious Conditioning for Dry Hair

I equate Frederic Fekkai hair products with great quality. This conditioner includes a "New Moisturizing Renewal Complex" and powerful shea butter to mend damaged, dry, straw-like hair. The ingredients are wonderful--along with shea butter, there is honey (a natural humectant), panthenol, and avocado. It made my hair like strands of silk. It works most effectively with the accompanying shampoo. I love it!

Just Okay

Not a very good product. No better than a Suave conditioner. Not creamy or moisturizing.

works, but smell sucks

this conditioner is awesome! when i got out of the shower, my hair was SO soft! my naturally curly hair is dry and its sometimes hard to keep my curls defined. but after using the frederic fekkai shampoo and conditioner with shea butter, my hair was softer and my curls were more defined! i loved my hair. i would say the ONE MAJOR downside is the scent. I really hate it! it's kind of hard to describe, but it smells like medicated shea butter.

Back
to top