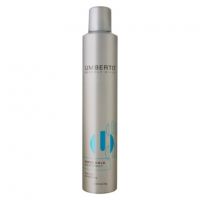 Umberto Super Hold Hairspray
As low as
Umberto Super Hold Hairspray

It is a very good product. However, they do need to exam the spray nozzle. I have purchased at least three cans and they all have stopped spraying after the can is half full.

Carry this with me everywhere!!

Ok this is the BEST hairspray I have ever used!!!! I have a hard time with styling products due to the fine nature of my hair. It also does not like to stay where I put it. I purchased this on a whim because my bangs where flying all over the place on a windy day (the expensive hair spray I had used before I left the house failed miserably). I got a little one to keep in my purse for touch ups and...read more I now find myself going to my purse for it when I am at home. I love that I can position my hair where I want it, spray (and the pressure from the can does not blow my hair everywhere, which is one of my main problems with that expensive hair spray) and it holds strong while not looking hair sprayed. So overall I am very happy with the application, hold, and look of the sprayed hair!!! Highly recommend.

Back
to top