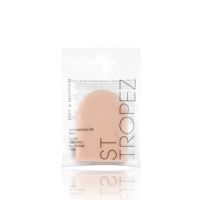 St. Tropez Tan Applicator Mitt for Face
As low as
St. Tropez Tan Applicator Mitt for Face

I just bought this from Sephora. I didn't know what exactly to expect from it, but I am so glad I took the plunge. I found it much easier to apply self tanner to my face, and was really surprised to see how much it eliminated streaking. I usually just use my fingers, but this made for a much more even application. I use it with SUN Labs Strictly Faces Tan Overnight in dark, and it works wonder...read moreful. I don't have to worry about my hands becoming discolored either. I usually have to scrub my hands and nails with St. Tropez Self Tanning Removal Cream, but now, I just wash my hands after using the mitt. It was extremely inexpensive, and after I use it, I just wash it gently and let it dry. I think this is one of the best investments I have made that makes it so much easier to apply self tanner. I have also purchased the body mitt and will be writing a review on that as well. If you use self tanners, this is a must have.

Streak-free Self-Tan!

This mitt is amazing, I use it with all my self-tanner products. The application is so smooth and easy. I really am completely streak-free. I also loved not having to worry about getting any product on my hands, and didnt have to wash them right away. So I could evenly apply to the backs of my hands to avoid the "glove" look. Works best in circular motions.

Back
to top