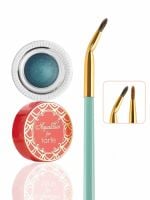 Aqualillies for Tarte Amazonia Clay Liner in Splash
ALL EYES WILL BE ON YOU!

I caved. I am absolutely head over heels for Tarte's "Aqualillies" waterproof makeup palette (rarely have I seen shadows with such beautiful undertones or used a product which performed better). I went on to purchase their ultra-moisturizing Glamazon™ Pure Performance 12-Hour Lipstick. But what's the purpose if you don't have a great waterproof eyeliner? Last year during our summer vacation,...read more we couldn't have had a better time--and I couldn't have looked worse when the little makeup I wore for photos disappeared. I plan to vacation in living color this year. This liner just comes in one shade for now (I have a feeling that more are on the way), a fun, flirty, totally "summer" shimmering turquoise. For just $24.00, Tarte includes a fantastic bamboo double-ended brush with one curved end to make application quick and easy, even for those of us who can be "all thumbs" with liner. Whether you want the tiniest bit of color or a thick line of teal, you can achieve it with the brush and the formula. The color is surprisingly flattering for all eyes. It glides on easily and can be smudged when still damp. Once it sets, it is completely waterproof. Go ahead--play in the ocean, swim in a pool, and laugh until you cry--your eyeliner is still there! I tried it in the shower. While I didn't use soap to remove it, I did soak my face thoroughly and for a long time. The liner stayed perfectly intact. This liner, like all of the "Aqualillies" items and many of Tarte's other cosmetics, contains Amazonian Clay. I will admit that I rolled my eyes when I first heard of this, sure that it was a gimmick. After using nearly all of Tarte's available products, I can assure you that it is not. It keeps moisture in skin, prevents oil build-up, minimizes pores, and helps to give these amazing colors their staying power. Applause for this treasure!

Back
to top