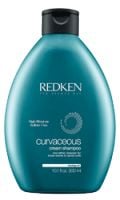 Redken Curvaceous Cream Shampoo
As low as
Edit, update--Good quality shampoo

I got this in a travel size for vacation. Even though I have fine, straight hair and this product is for curls, I liked it. It cleaned effectively, left my hair full and shiny. It did not weigh down my hair or make it look greasy. It has a slightly spicy, Cinammony fragrance. The only thing is I felt I used more than normal because this is a cream shampoo and does not lather. Even though the...read morere is no lather, my hair looked and felt clean after rinsing. It is a nice shampoo. I am dropping my rating down a notch because after a few days, it causes my scalp to itch and I have to stop using it. It is heavily perfumed and I do have allergy prone, sensitive skin. If you like the fragrance, do not care that it does not lather (it does not affect its ability to cleanse), and do not have sensitivity issues, you will like this. Unfortunately, it is not for me. : (

Love it!

I received this 3 piece trial kit through Facebook a couple of weeks ago and I have finally been able to write a review on it. The kit included: Curvaceous Cream Shampoo 10 OZ- Gently cleanses with a low-lathering, sulfate-free formula for moisture, definition and shine Curvaceous Conditioner 8 OZ- Quenches thirsty strands with intense moisture and weightless conditioning. Leave in for extra contr...read moreol and manageability or rinse out for a daily dose of detangler and shine. Can also be used as a finishing lotion to smooth fly-aways Free Curvaceous Wind Up Reactivating Spray 1OZ First off, let me say that I have never been more satisfied with a shampoo, conditioner and hair spray than I am with this product. They left my hair, not only shiny and healthy looking but it also tamed my frizzy hair, smoothing it out thus making it more manageable than I have ever imagined that my hair could be. The shampoo itself is a cream shampoo that lathers very well and even though my hair is thick, I have been able to use the shampoo twice as it comes in such a deluxe sample size. The shampoo left my hair feeling light and shiny; the smell of the shampoo was very clean smelling and it stayed all throughout the next day. The conditioner was also a nice treat as it treated the dry ends of my frizzy hair as well as give it a very weightless feeling after my hair had dried. As with the shampoo, I was able to use the conditioner twice, even with my thick hair, due to the deluxe size of the sample. The smell of the conditioner was also as pleasant as the shampoo and it stayed with me all the throughout the next day as well. The hair spray is something that I was a bit hesitant to use as I personally do not like the smell of hair spray. But to my surprise and complete delight it smelled just like the shampoo and conditioner. I used the spray for the first time after I had completely dried my hair and I will say that unlike other hair sprays, this one goes a long way on just a few sprays. I believe this is due to the fact that it has Moringo Oil within it, thus making it a bit thicker than most other sprays. I loved the calming and soothing effect that it had on my hair once it had dried but I wanted to try it out on how it reacted to my hair if I had put it on before I had dried my hair and let my hair dry naturally without any heat. Now usually when I do this, my hair becomes extremely frizzy and unmanageable...but to my great delight this was not the case. Not only was my hair not frizzy at all but since my hair is naturally curly, the curls were more accented and tight than my usual loose wavy curls that comes naturally to my hair. I got so many compliments that day and many asked me where I got my hair done. After trying out this kit, I am pleased to say that I will be purchasing all of these products again in the near future. I also plan on reusing the spray bottle for the Wind Up Reactivating Spray as a travel size bottle whenever I travel as it is the right size. If anyone ever has the opportunity to try out these products then I highly recommend them! They are well worth it and I am positive that you will love the results!

Back
to top