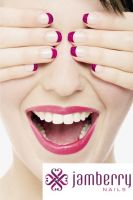 Jamberry Nail Wraps
As low as
I love them - worth a little practice to get them right.

I have terrible nails. Brittle and ridgey - they peel, they crack. Nail polish lasts maybe a day on them - even with a base coat and top coat. And I find getting a manicure to be a high form of torture. I got acrylics for my wedding 25+ years ago, which left my nails paper thin afterward. And I'd generally resigned myself to never having grown-up looking fingernails Jamberry nails changed all tha...read moret. Yes, they take a little practice to get on. So, yes, they take some time - but so does a good manicure. There are a ton of videos online showing a lot of different tips, tricks and techniques - pick the one that works for you. Bottom line, the fingernails last a solid 2 weeks - and I use my hands a lot, playing guitar, gardening and painting. And the toenails last even longer - around 4 weeks average for me. Yes, they take a little time. But at $15 for a set that makes 2 manis, 2 pedis and a few accent nails, it costs way less than a professional manicure.

Hard to put on but so pretty!!

I like these okay- it took me about 30-40 minutes to put them on. I have short nails and I found it really difficult. I got the pumpkin spice color, which is a beautiful gold & orange glitter. You have to use the blow dryer to put it on so it's not a multi-tasking even like I normally like for my nails to be! I was told that you could get 2 mani and 2 pedis per sheet, but I don't think thats the case either.

Cute but not so easy to put on

I bought some mint green chevron wraps to give it a go since I loved the pattern and knew I could get away with it at work. Honestly, they were a little hard to put on right. I did a decent job and have gotten compliments on them, but i could see where I screwed up and it annoys me. On the plus side I've been wearing them for 4 days and there is only slight wear. So, it's cool, I do not regret trying them, but I am not sure I will buy them again.

Back
to top