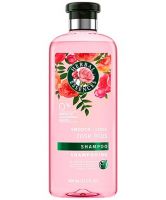 I thought it was a fluke!

So I was in my local Walmart, picking up some things and I happen to stop by the clearance table to see if I could find myself a treasure... and I did! Or I thought I did. The moment I saw this I snatched it up, in utter disbelief I thought I may have found what could be the last Herbal Essences condtioner of its kind. Super old of course but I HAD to have it, I needed to smell that wonderful s...read morecent again! I had to feel my hair soft and silky again like when this product first existed. I was the happiest person in town. Needless to say I felt pretty stupid when I realized that Herbal Essences finally realized that they could never replace this product with their fruity smelling line and brought back the classic. But I'm no less happy about it! Now if they could only bring back the body wash too...

Re-discovered and in love again

Ok so I used this shampoo years ago. From trying out new shampoos I eventually stopped using this. But the other day I saw it and got the shampoo and conditioner and ooh my goodness. I fell in love with it again. Its so good to my hair, I dont think its been healthier. It leaves a light scent that I always get complimented on. People always say I smell good, and its the shampoo!! Its lathers up ni...read morecely and removes the buildup in my hair and does not weigh it down. I dont like the new versions they keep coming out with. This one I am pretty sure is the original as I remember it from years and years ago. I dont know how theres no reviews on this yet, but if you havent tried it go get it ASAP. Let us know how you like it.

Wonderful

This shampoo is really wonderful! It makes my hair extremely smooth and manageable! Feels so soft after using it!

Back
to top