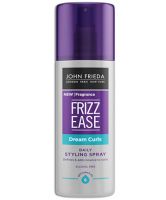 Huge Fan, A Little Crunchy

I have long curly/wavy hair...depending on the weather, but it's also prone to frizz (esp on dry day). For years I've been searching for a spray that would accentuate my curls, but give enough hold to keep them together all day. This is the best I've found but I have yet to find the perfect ten. It definitely holds curls together but it makes them a little bit crunchy. I also feel that I have to u...read morese a lot of this product to get a great look...which means it runs out quickly and it's not that easy to find anymore. I do like that it definitely adds shine and smells very good. Overally concensus, I will always keep this in my arsenal of hair supplies, it's a staple that I'm used to and probably can't live without even though it's not a perfect 10. It's like that best friend that might complain all of the time, but is always there for you when you want predictable, tried and true results. The quest continues,but this one stays. (i just discovered Morroccanoil curl mousse..a close second to this item, but only because I enjoy a spray much more than a mousse).

a Must Have

Can't go without this. I use it along with Paul mitchell skinny serum and it helps to define my curls much more

My Wavy Hair Must-Have!

I have unpredictable wavy hair. I used to not dare to style it wavy and leave the door with it still wet. I have no idea how many products and styling tricks I have tried. I randomly bought this curl spray and have been a loyal repeat-purchaser ever since! I don't dare try to style my hair wavy without it. I have never had a problem with it leaving my hair crunchy, or weighing it down. It definite...read morely defines the curl and leaves me with a uniform texture. The trick for me is to comb my hair in the shower with a large-tooth comb, towel dry (squeezing the hair, not rubbing), and then separate my hair into 2-3 layers to help with an even application. I spray wxh layer liberally and gently scrunch. Then i flip my head over and scrunch gently again. Sometimes I gently mist my hair with a light hairspray or spray in some root boster. Then don't touch the curls! Just let them air dry. The secret truly is this spray!!! Even the day after shampooing and wearing it curly I will spray all over my dry and scrunch, and end up with refreshed and revitalized waves with volume. I have yet to find anything better, and will continue to always have this product in my curly-hair arsenal!!!

Back
to top