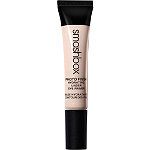 Nothing Special

The concept of this is great - a product that will moisturize and prime your delicate under eye area so your concealer products will go on smoothly and last all day. Unfortunately, after using this several times, I cannot tell that it makes any difference whatsoever on the wear or the extent of wear of my under eye makeup. The packaging and consistency of the product is nice. It is easy to sque...read moreeze out exactly what you want and the thick, yet spreadable lotion is easy to apply. One time, the product burned my eyes but that was my fault for applying too close to my eyes. Just a word of caution. Since this is meant to be used during the day, under makeup, I wish it had an SPF in it, like an eye cream might. Checking myself in the mirror throughout the day at work, I noticed the same amount of light creasing I tend to get from my under eye concealer without using the primer. It is nothing crazy, but I expected that since I used a product specifically meant to stop this, that I would not have any creasing at all. Since this has less skincare benefits than most typical eye creams boast, I would say you should save the $29 that this costs and apply it toward a good eye cream (with SPF) that you know will work well under makeup. This extra step doesn't add anything special or beneficial to my makeup routine.

Great to moisturize area prior to makeup application

This works well for aging skin as often eyecreams are not compatible with makeup and this product fits that bill. I feel I have fewer lines under the eyes as a result of wearing this

meh

I didn't see any difference at all. It's like using any other moisturizer. Save your money and use your regular moisturizer.

Back
to top