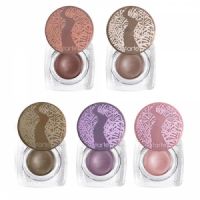 Tarte Amazonian Clay Waterproof Cream Eyeshadow
Amazing--and Amazingly Easy to Use!

When I did a review of Revlon's marvelous, must-buy "ColorStay 16-Hour Eyeshadows," I mentioned my shadow addiction. It's nearly impossible for me to resist new eye colors. I tend to gravitate toward powder shadows, but I am so impressed with Tarte's "Amazonian Clay" line of products (blush, shadow quad, liner pencils, concealer, etc.) that I purchased their waterproof cream shadow...read more in a jar ($19.00 at Sephora or Ulta). I wanted to experiment. Tarte has yet another WINNER on its hands! The available colors are "Seashell Pink," "Plum Smoke, "Slate" (lustrous silver which actually appears more of a taupe), "Shimmering Moss," and "Shimmering Bronze." I chose "Slate," assuming that I couldn't go wrong with it. Each color is understated enough to give you a great look for daytime. It stunned me at how my look changed completely for the better by just smudging some of the lightly smoky, gleaming color on my lids. It is extremely sheer and virtually slides onto lids itself. Immediately I looked polished and far prettier, with the bit of green in my hazel eyes now emphasized. This shade would definitely be flattering for the majority of women. For more "oomph," I work with a stiff-bristled brush to extend upward and outward in the area of my crease. Then I smudge some underneath my bottom lashes for a come-hither, glamorous look. These shadows are not for the faint-of-heart. They will stay put and see you through whatever your day (and/or night) has in store for you. And they are waterproof, an absolute necessity for me in any type of heat or humidity. These are lightly fragranced, but it's hard to define what the fragrance is (neither pleasant nor unpleasant). One tip: Be sure to close the lid thoroughly so that the shadow doesn't dry out. Tarte, I don't know or care what Amazonian Clay is, but it works. It simply works!

Nice shadow, use primer

I love cream shadows--they're so easy to apply and blend. I received a tiny jar of this Tarte shadow in shimmering golden beige with a set that I chose as my 500 point perk from Sephora. I was initially very disappointed in this shadow. I threw it on alone, without primer, and within just a few hours it was clumping, creasing, and flaking off. It was awful. The next time I wore it, I made sure to ...read moreuse primer first and that made ALL the difference. The shadow stayed smooth and perfect all day. It was gorgeous. I would definitely consider buying a full-size jar of this shadow!

Back
to top