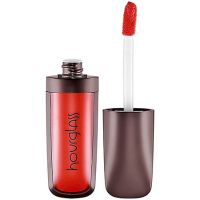 Wow

This is by far the most durable "long lasting" lip product I've ever used (and I've used lots of them). These are deeply pigmented and you have to be quick to correct any application mistakes because it sets fast. Very fast. And then it doesn't move. EXCEPT around the inner edge of my lips where I'm eating and drinking. I wore this to my husband's office party and didn't reapply all night because ...read moremy lips felt like it wasn't needed. When I finally looked in the mirror at the end of the night, I did look a little ridiculous (my own fault, I should have checked throughout the night). But it wasn't that huge of a spot that anyone I know and trust even noticed and said something, so not the end of the world. The shade I have ("Empress" a deep berry shade) is pretty dark on me and will probably be reserved for special occasions mostly. But I am so incredibly impressed with the staying power! And my lips never felt horribly dry when I was wearing this, as often happens with the long wear lip products. This is great stuff, just make sure to check and/or touch up from time to time if you're eating and drinking.

Amazing, long lasting color

I had my eye on these liquid lipsticks from Hourglass for a while before I finally bought one. My main hang up was deciding on the perfect color. I ended up buying the color "ballet" which is just what I wanted. It is a vibrant, beautiful fuchsia, pink color that looks amazing and goes with several different looks. This applies like a lip gloss, but it sets to a matte finish and lasts all day....read more I was expecting this to be more the the YSL glossy stains, but whereas those maintain somewhat of a glossy finish, these act just like a long lasting matte lipstick. The packaging is super sleek (as is the case with all Hourglass products) and compact. The color you get when applied, is spot on to the color you see in the chic little tube. The color lasts all day long, even standing up to constant coffee and water drinking throughout the day. One swift application gets you the opaque color you want so it is a great option for when you are in a rush. I want to try out so many of the other amazing looking colors! Hourglass is a high end brand, so this comes with a high end price tag of $28 per tube. However, the colors in the range are amazing, the application is easy and the effects are so beautiful. My only complaint is that this does feel quite dry on the lips. It doesn't feel weightless like the YSL glossy stains, but it is no worse than other matte lipsticks.

When they say it's long lasting, they mean it!!!

That lipstick comes in an elegant packaging (as the rest of the products of the brand...), the format it's similar to a lipgloss. You only need a single application to see the true color. And it really lasts. I can say from my experience that is drinking proof and almost, almost eating proof. When I say almost bare in mind that hellooooo you're eaaaatiiiinnnggg... It fades a bit after but I'm so h...read moreappy with the lasting power and how it performs. I own the shades Rose (a neutral pink), and my favorite so far, Empress (a beautiful aubergine color), but I'm planning to get a few more =) You might feel the lips a bit dry but oh well it's a matte lipstick after all what did you expect? The official price in the website is $28. So yes, it's high end but if your pocket can afford it, I think is really worth to try, you can't go wrong with them.

Back
to top