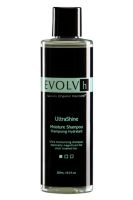 No thanks

I recieved a sample of this product in a beauty collection, and it was the worst stuff I have ever used. It lathered well and rinsed out fairly easily. I have long thick color treated hair that is dry and a dry scalp, so I don't shampoo more than twice a week. After rinsing the shampoo out my hair felt sticky, I then used the conditioner and that was a bit more difficult to rinse out. When I got...read more out of the shower my hair felt like I had dipped each strand in wax. I can't get a comb or brush through the bottom six inches, and above that was hard to comb. Until I can wash with another shampoo all I have been able to do with my hair is pin it up in a messy bun. I haven't had this much trouble with a shampoo since one of the higher priced drugstore brands left my head looking like I had struck oil-on my head.

Great stuff! Cannot order on your site?!

Love this stuff! Very disappointed I could not order on your site, and use the coupon that came with my collection!

Incredible

I almost can't stand how softy-feely good my hair is! The scent is delectable.

Back
to top