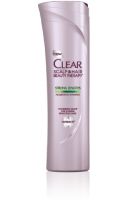 Really works!

I really enjoyed using this product. I figured since the price was so low and I had seen advertisements I would give it a try considering my over-heated, over-styled brittle hair is always looking for the new miracle product. First of all the smell is very nice and light, nice lather and nice consistency. Its safe to use basically as much as often as you want without overdrying the hair. I find my...read moreself actually looking foward to my washing routine rather than fearing the lengthy process. It makes my hair feel really alive, shiny and overall healthy. I am just in love with this brand because I honestly notice a big difference in my hair because of the whole "starting from the root" concept. I have more lift and volume on the top of my hair and also because my hair is blonde I have a problem with gray hairs due to loss of oxygen to the hair shaft which has decreased quite drastically since the use of the shampoo which I've used about 8 times. I'm in love with the price and the product!!!

Clear Shampoo vs The Flakes

Frankly, it's average. My hair is shiny and soft but it hasn't done anything to reduce the flaking of my scalp. Disappointing, especially after the price doubled...

I am very pleased!

I have fine, oily hair. I am always in search of the perfect shampoo that will extend the life of my hair without it looking like an oily mess by the end of the day. This was the answer! I was also afraid I was losing hair from medication, stress, etc. My scalp is healing and I just have nice, bouncy hair now. I'm so happy!

Back
to top