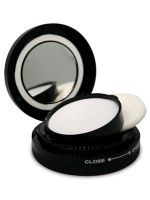 Skinn Plasma Flawless Finish
As low as
Wow, an airbrush flawless look!

I saw this on tv several times an how to use it, so I just had to get it when it came in a kit with other goodies. So I used it today and it really made my skin look great after using the BB cream for Skinn. My skin is dry and pealing from using my retinal A, but it also smoothed out the flaky sin I had and kept it compacted. I don't have big pores to begin with, but it smoothed out the small on...read morees I do have and my skin looks porcelain smooth, no Joke!. I'm eurasian and have fair skinned that tans easily, this is perfect for when my color changed during the seasons. I didn't use any foundation and I even put my mad hippie day cream over the plasma on the really dry area. I just dabbed a little. I didn't sweat and it kept my skin from getting that shiny oily look. This is priced at $40 by itself, but I got it with a kit special for $45 along with eye rejen and skin refen and eyeshadow. I recommend this with a BB cream first then pat the Plasma over it. You don't need to use any foundation for that natural look if you skin doesn't have any scars or need covering up. It really does give you the HD blurr look. I can't give it a 10 yet, because I want to see long term use of it and also see how I look in pictures. Over all I am happy with this products since running out of my Skin79 BB cream, which that can be used all by itself. the GOld VIP one that is. If this turns out to be the miracle it seems for me, I may have to fork out and spend the money for it, but there are other products on the market that are similar and much cheaper if you find yourself not wanting to spend the money for this.

Skinn Flawless Plasma Finish

What can I say but that this product does what it says. To look at it you would not understand how it works, but it has staying matte finish, lasts long, and feels good. The compact is functional but like all sponge applicators it has to be replaced often.

Better than Powder

Avon and Mally manufacture similar products. It's a clear cake that you use with a sponge and apply like powder. It's a great product and it doesn't add any color. i use it over foundation during the day. Some days I use it more than once and as long as my foundation holds-up I have a nice matte finish. This is a product anyone with oily skin can use as well as anyone who uses moisturizer and foundation that causes shine during the day.

Back
to top