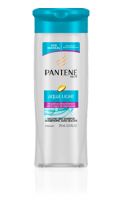 Good for occasional use

My hair easily gets build up so I typically need to switch shampoos every few weeks. I use this shampoo in between using a conditioning shampoo because it really cleans well but it leaves my hair brittle and dry if I use it consistently

Pretty Good

I have straight heavy hair with a scalp that gets oily. I need nourishment that won't weigh my hair down and this shampoo is adequate for those needs. It cleans my hair well and keeps it tangle free and fairly soft. I still get greasy in a day and my hair is flat but this isn't a volumizing shampoo.

Great in some areas

My hair gets so oily it's ridiculous, so I want something that doesn't leave residue. This definitely doesn't leave residue! My hair feels so light it's great. However, since my hair is medium-thick and curly(ish), it needs more moisture than this offers. So the search continues.

Back
to top