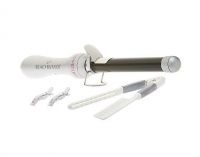 SarahPotempa BEACHWAVER Rotating Curling Iron
As low as
Awesome .... Yes

This is an amazing products . My hair never hold curl and it held forever with no product no nothing !! It's amazing!

LEGEN... wait for it... DARY!!!

I was introduced to this product at the Las Vegas Beauty Show and was asked if I wanted my hair curled. I said sure, but my hair doesn't hold a curl. That was at 10:00am when they first opened. My hair held a curl without product all day! So I definitely went back and bought it. I loved just how quick it is too. I can now curl my hair in ten minutes. I'm definitely in love with this and it was sooo worth the money!

Back
to top