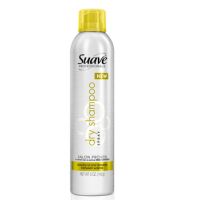 So-So

This product does extend my hair a few hours but it doesn't leave it looking freshly washed. It leaves it a bit stiff and is hard to comb through. It works fine for if I want to put my hair in a ponytail, but it certainly doesn't work as promised.

My "go-to" product!

I love this dry shampoo for so many reasons! I have been using it for about a year. I have tried the Oscar Blandi version for Brunettes, Tigi Rockaholic and also TreSemme. My hair is brown, long and a but coarse underneath. It's also very thick. This is by far my favorite dry shampoo. I read about it in an article and it was rated #1 - I can see why. I feel bad that the reviews for curly hair were...read more so bad for this product. I think it is a bit unfair because I would not have chosen to use a dry shampoo for curly hair, which tends to be a little dry to begin with. Perhaps the TreSemme waterless foaming shampoo would be best for that hair type. My roots tend to be oily and this product lets me skip a day - sometimes two! Here are a few tips: 1. Spray only in the areas where needed. It's always easier to add more than to take away! 2. Too much of any dry shampoo will leave hair feeling dirty, greasier or just weird. 3. Instead of combing it in, try using your fingers to "shake" and fluff it in - it leaves hair tousled and full of volume. Definitely give it a try!

Love it! Better than expensive brands!

This dry shampoo is fantastic! I picked it up one day when I knew I wouldn't be able to do my regular hair-washing and styling, and was extremely skeptical because last time I used dry shampoo (a much more expensive one) it didn't do much for me, and smelled bad as well. This Suave Professional Dry shampoo turned out to be a great surprise. It actually works! I have long, dark hair, and it is pro...read morene to getting oily fast, and does lose volume by the end of the day, not even mentioning the next day. With this dry shampoo all those problems go away. I used it as directed- shook the can, sprayed mostly on the roots, massaged hair and scalp lightly, ran a brush through my hair. The result was amazing! Hair looked clean and fresh instantly, and the added volume was as if I just had a good blowout! There also wasn't any white residue on my hair. The smell is a bit strong, but it is rather nice, and it fades away too. This dry shampoo is much nicer than Suave's keratin dry shampoo. When I know I'll have a super-busy, crazy day I actually spray some of this shampoo on the roots when finishing styling to help keep my hair looking fresh and keeping lots of body throughout the day. The can packaging is nice- I like the simple clean design and cheerful yellow, the cap stays on well, the spraying part works great. You get a good amount of product, will last you for a long time. And you really can't beat the price, at a little over 3$ this product is a lifesaver for busy ladies or various emergencies when you just don't get a chance to wash and re-style your hair. I highly recommend this dry shampoo, especially for those who need more volume. And I will keep buying this amazing product myself.

Back
to top