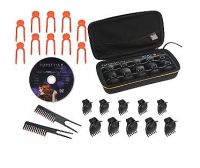 The TopStyler

The first time I saw an infommercial for this, I wanted it. I am already an InStyler owner and I love that thing to pieces. I'm lazy when it comes to my hair, and products like these help make me less lazy. The first time I tried the TopStyler I thought about returning it. I hadn't touched it in quite a while until the other day. I have long, baby fine hair that is naturaly curly/wavy, but I wante...read mored to give it some additional pizzazz. I don't think it took me ten minutes to put in the clips once they heated up, which was a lot faster than I originally remembered. I put a few in twice for additional curl. Afterwards, once my curls were ready to be styled I misted a little Redken Fabricate, put my hair up and my curls lasted all day. The next time I use it I will also use Redken Hot Sets, as that has stronger hold. I think that will make a difference in how long they last. With this product, I think practice makes perfect and that you just have to keep at it until you get the hang of it and it starts to perform for you the way you want it to. If it doesn't work at all, return it, don't hold on to something that doesn't work, but for me, I'm glad I purchased it and that I gave it another chance because now it's doing what I want. My purchase came with an additional 10 c-shells, so running out isn't an issue. I do wish there were more small ones than large, simply because those are what my hair needs. Also, for tighter curls I recommend wrapping the hair around one finger instead of two or three. I wish this was made easier so I could travel with it, I'm romancing the idea of putting it into my checked luggage the next time I leave town. Thank you for inventing these, especially for us ladies that are curling iron challenged.

Best hair tool I own

The system is different from the normal curling implements you are used to (curling irons, curling wands, flat irons…) These are little clam shell clips that get heated up. What you do is wrap your hair around your finger (you can use two or three fingers for looser curls/waves) and then place the pre-heated clamshell over your little bit of hair. You can then let the clamshell cool while it is ...read moreon your hair – leave it for as long as you like – the longer you leave it the more intense the curl. When I go to curl my hair it usually takes a good hour or so – and some very sore arms from holding tools and contorting myself – I honestly don't know how some women do it. This tool makes it possible for me to have awesome curly or wavey locks in less time. The first time I used this it took me about 20 minutes to put all my curls in the clamshells. Now, most of the time I am going for body and wavy hair – and that takes fewer clam shells – so I am now only spending about 6-8 minutes putting the curls in, and then 1 minute taking them out after completing my makeup. To me the best parts of this are: •The multitasking – instead of waiting for each curl to heat and then moving to the next one, I set up all of the curls then I can go do other things, like get dressed and put on makeup •The lack of damage – because the clamshells are preheated, once I put them in my hair all they do is cool down, so I don't get scroched ends like I could with curling irons •Speed – this is by far faster than me using any other tool I've come across The only negative is that the curls don't seem to last quite as long as with a curling iron – HOWEVER that may be because I need to find a good way to set the style. Would I buy it again? If I had to do it over absolutely – it was a fantastic purchase and I use it at least twice a week.

Not User Friendly

This product is not user friendly and very hard to curl hair. The results was not worth the price.

Back
to top