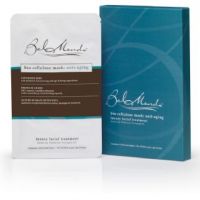 Bel Mondo Bio-Cellulose Mask: Anti-Aging
As low as
One try and I'm hooked

My girlfried and I decided to do a spa night party and one of the products she brought with her were these masks. Wow they were great. They stuck to our faces like a second skin so we could still walk around sit up and drink our wine, but that's not the best part. They really really felt good while they were on. It was really quite soothing. This materiel that they are made of is really cool they...read more way it holds the yummy ingredients in and keeps it right on your face and doesn't dry out. We kept them on for quite a long time buy they stayed in place and were almost like a second skin. And then after I was loving the feel of my skin and it seemed to last a long time. Love this product and am going to start using it more.

These masks rock!

I discovered these masks via a youtube channel reviewer. I couldn't afford my spa days any longer so I thought I'd try one mask. I ordered one online at their website and it came quickly. I used it that night and it felt terrific. They're not joking when they say it has tons of moisture and it clings to your face. The foil pouch full of liquid and when I took the mask out it dripped all over. But...read more once I got it on it was tight to my skin and it didn't drip at all. I walked around, talked on the phone, and even opened mail. It was amazing. But the best part was when I finally took it off. My skin was glowing and super soft and hydrated. It was like the best moisturized I've ever used but it lasted for hours. I kept touching my face and remarking how smooth and good it felt. I ordered a whole box and plan to use one before big events and date nights. These are now among my favorite things.

Back
to top