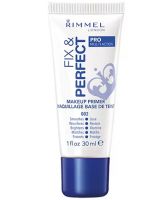 Very Nice!

Sets well on my skin, smooths skin, not too greasy. Does not cause breakouts, foundation looks great on top of this. My every day primer! Doesn't do too much on my lager pores but still a very nice primer.

Possibly for dryer skin? Not for me :(

This is a beloved primer and seems to have a cult following! Unfortunately, it just didn't work for me. My skin is combo/oily in the summer and combo/dry in the winter. This primer just felt really heavy on my skin. I would recommend it for someone who has normal to dry skin, or someone that may be using a moisturizer that is still leaving their skin on the dryer or tighter side. In addition to th...read moreat, I really didn't find it mattifying and if you have large pores like I do, this provides very little coverage, if at all. My current picks are: Garnier 5-Second Miracle Blur, NYX Pore Filler and Maybelline Baby Skin- they will all "blur" imperfections, provide coverage for pores and smooth and prep skin for concealer and foundation. For me, this just seemed like an added step that didn't add anything to my routine.

Awesome for drugstore primer

his is a very affordable drugstore primer that works as well as some other higher end primers. It is priced at $7.49 for a 1fl oz bottle. The product does last a long time considering your only need a little bit at a time. Fix & Perfect claims to be a skin perfecting primer; it is evident that it does just that because when applied it does smooth out and even out your face for easier and a more ...read moreeven makeup application. The product has a orange color to it, but once applied and blended into the face, the color fades away. Fix and Perfect primer does make your foundation stay on longer, and it fades away any shine that might be on your face. This product works well on any skin type, whether dry, oily or combination. It is definitely gentle enough for sensitive skin, since that is a big concern when using primers! It glides on fairly well and quickly even with the driest spots; yet doesn't make your face shiny or greasy at all! The product does have a floral scent to it which might be bothersome for some people, however if scents don't bother you then I would highly recommend this product over a few higher priced primers that work equally the same.

Back
to top