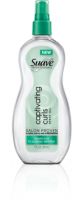 Suave Professionals Captivating Curls Spray Gel
As low as
Great for finishing and for touch ups!

I agree completely with my fellow reviewer who said this gel combined with Suave Captivating Curls Whipped cream mousse are a winning combination. You can use it on it's own, but I've gotten the best results by putting the mousse in my hair first, plopping it, and then when I take it down, I spritz this gel (not too much) on my curls and gently scrunch. The next day, I don't wash my hair--I simp...read morely spritz my hair all over with water, gently scrunch the curls back in, spritz more of this gel and scrunch again. This has given me the best looking hair of all the products I've tried so far, high end or low end. For reference, I have type 2a wavy hair, that is very limp and drab on it's own. I used to straighten it because I didn't think I had enough curl to work with, but since I've found this combo, I have LOVED my hair wavy and natural! This may be the first time in my life that I"ve ever loved my hair!

Perfect finishing touch for curly hair!

Here's your new curl-care regimen: Suave Captivating Curls Shampoo+Conditioner+Whipped Cream Mousse+Spray Gel. These are all you need for beautiful and controlled curly hair. Don't spray too much, though, lest you leave your curls "crunchy" and hard. I like to spray a quarter-size amount into my palm and then scrunch this spray gel throughout my hair. I'm so happy to have something this excellent--and affordable!

Back
to top