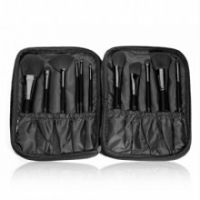 Outstanding Set

There was a time when I only used real-hair brushes when applying makeup. When it became too costly to replace my favorite brushes, I turned to beautifully made synethic-hair brushes. My mouth hung open when I received set last year. The brushes are extremely soft, wonderfully shaped for different uses, and very dense. They do not shed. I like the quality of the carrier ELF has placed them in...read more, and I like the fact that many brushes are covered with plastic to keep them in shape. I handle them as gently as I do natural-hair brushes, wash often, and I get tremendous, wonderful wear from them!

Phenomenal! A MUST have.

I have had a love hate relationship with some of ELFs products, but lately I am hitting gold and it is unbelievable. This set is probably my favorite beauty purchase this year. I ordered it off of the website and got it for a steal at $15. This is a part of their Studio Line which I am having great luck with. These brushes can be stacked up against any high end brand and be just as good if not be...read moretter. Spending $40 a brush does not necessarily mean better quality. When I got them, I cleansed them with gentle shampoo and conditioner, then gently blotted and reshaped to air dry. If I could rate this set as a 20, I would! I have not experienced any shedding and the bristles are soft and comfortable on my skin. The best set that I did not even know I needed. :)

great!

This brush set is really nice. All brushes are of very good quality, and shapes and sizes cover pretty much all needs. The case is nice too- sewn well, the zipper is not flimsy. And the price is really great- elf has all kinds of promotions all the time, so I got mine for 15$. Applying makeup has never been easier and more enjoyable!

Back
to top