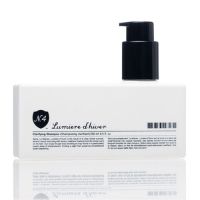 Best Shampoo In the Entire Universe

This shampoo supposedly is clarifying AND gentle. Isn't that impossible?? Apparently not. Your hair feels cleaned in a way that the dirt and product and junk was just magically removed/taken away after using this. Having dry hair, I have felt like my hair was bleached ten times in one day when using a normal clarifying shampoo. Because of dry hair, I'm a huge fan of a great conditioner and wh...read moreatever is not drying as a shampoo....but this shampoo changed all of that. I will never purchase another shampoo except to switch up once in a while.

Not a fan

I received this shampoo as a sample from a beauty box subscription service. The sample I got was BIG so its lasted me a while (especially as I only use clarifying shampoos once a week). Its a nice shampoo but I feel like my hair is not clean enough after. The formula doesn't lather and I find it thick and heavy. I need something that really lathers well and makes my hair feel squeaky clean after I...read more use it. For me, this is not it. I believe the bottle also says it can be used as a body wash, which I am not a fan of. I want my products to be specifically crafted to do a job and do it well. I'm glad I got to try this, but I would not repurchase.

Color Safe!

I adore this color-safe clarifying shampoo. I use it once a week and it is fabulous, especially when I use right before my hair mask. Smells terrific, and doesn't take much product.

Back
to top