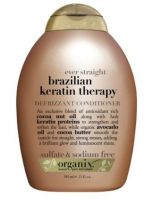 Nothing to Rave About

When applying this, hair feels soft and smooth especially after rinsing. Unfortunatly, once dry, hair doesn't look at all different from how you started. I expected a bit better from this based on prior reccomendations.

Blah!

I would never use this if I didn't get the Brazilian blowout and needed a sulfate and sodium free shampoo and conditioner. This smells like an artificial Hawaii vacation on your head. It is strange how the product feels in your hair and it doesn't really condition that well. If you got the Brazilian blowout. This is cheap and will do what you need it to. If you did not. Find a better product line.

No.

I love the way this smells. I am not a fan of, however, the results. The delicious smell wasn't in my hair in the morning (i wash my hair and shower at night) and I really hated the fact that I paid $7 for not difference. Not repurchasing.

Back
to top