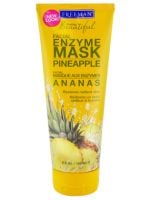 Decent Mask

I have to agree with one of the other reviewers; this mask is not my favorite. I like to see fairly immediate results with a mask and I didn't get that feeling with this one. I'm going to continue to use and will update my review if anything changes. The texture is odd; sort of cool and slimy, with the finest of granules that you can barely feel. I kept it on a bit longer but just didn't get the r...read moreesults I was hoping for. I have really nice skin to begin with, and as strange as it sounds, that might be part of the problem with this mask.

Nice but not my favorite

It felt cool and soothing and thick when I applied it. The Sachet contains enough for two masks, the full size contains enough for TONS of masks, but I only got the sachet. The mask was to be left on for about 10 minutes. It did not get hard or dry out during this time. I had a little trouble removing it from my face because it was so thick. My face did feel moisturized but not much better than ...read moreafter any of my other facial treatments. Would I get it again? Probably not; I really liked the cucumber peel off better. Bad enough to throw out? No, I will use the sample until I run out of it.

Great mask!

This mask really does what it says. I sometimes use it as an overnight mask, and it lightly moisturizes my face. Plus, it really smells great too!

Back
to top