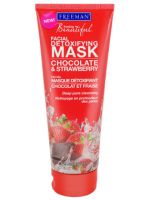 Yummy!

Oh my goodness this is the best face mask I've ever used!! I've had the pleasure of using this mask by Freeman and the dead sea one and I am in LOVE with both. As soon as I run out I will be buying more of each and will purchase others as well. I use this mask about 3 times a week after I have already cleansed my face. I apply a thick layer all of my face specifically targeting my forehead, che...read moreeks, and chin and let it harden for about 15-20 minutes. If you forget to take it off it's not a big deal, it does not burn or itch. The first thing I noticed about using this was the smell by far. It smells like pure chocolate and strawberries, every woman's dream! It has a light brown chocolate mousse color which makes it very hard for me to not try to eat it after too haha. After 15 minutes I remove the mask with warm water and pat dry and I am in heaven!! My skin feels super soft and smells amazing! I bought this at Ulta for $3.99; I have never seen a better working mask for such a great price, and that's ALWAYS the price. I also purchased the dead sea one which I will review and when I am finished with them will try the others. Excellent job Freeman!!

Perfect for diminishing pores

Freeman Beauty Chocolate & Strawberry Facial Clay Mask is a brand new deep pore cleansing mask, designed with natural botanical ingredients, to help skin tone, diminish the appearance of large pores, while nourishing and moisturizing. This mask is perfect for normal, dry, and combination skin types. The product comes in a 6 Fl. oz. container which retails for $3.99. It is packaged in a very sta...read morendard squeeze-tube, which makes it easy to apply the right amount of product without going overboard. The mask is a light brown color, and its fragrance is very similar to that of chocolate milk with a slight hint of strawberry, in fact it actually reminds me of chocolate cake batter, or better yet a strawberry dipped in chocolate. The scent is very noticeable, yet it is not overpowering at all, in fact it is very pleasing! Once you wash the mask off, the scent disappears, so there is no lingering fragrance left behind. The texture is very lightweight, in fact I cannot compare it to any other mask that I've tried because the texture is very thin and creamy, spreads very easily onto the face, and a little product does go a long way! Because of its lightweight and creamy texture, the mask does dry fairly quickly, and a tightness can be felt within 3-5 minutes, which is approximately how long it takes for the mask to set. The directions do state to rise with warm water, and once you do that, the mask does easily wash off without any effort at all. Once washing it off, it did give my face a very clean and soft texture, it didn't feel tight or dry at all. The mask does exactly what it claims, after the first use, it diminished the appearance of my pores, and after continuously using the mask my face felt less oily, my pores weren't as noticeable, and my skin just felt very soft and very clean. Overall, the Freeman Beauty Chocolate & Strawberry Facial Mask is a wonderful product that I will continuously use as part of my skin care routine. Since a little product does go a long way, this 6 Fl. oz tube will last a very long time, especially considering I use this product 1-2 times a week; and for only $3.99 What a Bargain! you want to pamper yourself with a product that actually does what it claims, I highly suggest you get the Freeman Beauty Chocolate & Strawberry Facial Clay Mask!

Smells and does great.

This mask does do what it says and if course has that yummy chocolate smell, although, sometimes it kind of makes my skin very oily afterwards.

Back
to top