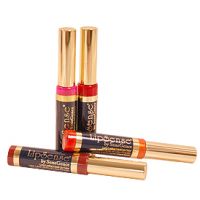 Stays on forever

Really stays on forever days. You can eat drink and party. I wore this to my bachelorette party and my lipstick is on in all the pictures all night after dinner, partying and tons of drinks. This stuff stays on great!! Costs more than average but it's worth it. The gloss is fantastic too. Nothing compairs

Lip Color Perfection

I recently tried this lip color for the first time and all I can say is, gone are the days of wasting my money on waxy, easily smudged short-lived lipsticks, lip stains, balms, pencils and the like. No exaggeration, this stuff lasts from the moment you apply in the morning until you are taking your make-up off before bed. Color stays on all day and is virtually smudge-proof. Meaning you can eat, d...read morerink, kiss etc. and the color doesn't budge. I have two colors; "nude" which gives lips a natural tint that makes them look even and enlarged look and "Kiss me Katie" which is a soft delicate pink and is my absolute favorite. I can't wait to get more colors. The line has so many to choose from and is even organized by skin tone to help you find your perfect shade. I have my eye on the "army pink" shade next. By day's end lips don't have that waxy, peeling coat you get with most lip products and instead feel moisturized and smooth. You can also order a lip gloss to apply over the color for a shiny look. I would give this lip color more than 10 stars if I could. It's truly something you owe it to yourself to try. I just cleaned out my lipstick portion of my makeup organizer because there really is no point in using anything else when this exists.

Pretty but OUCH!

I tried sooooo hard to love LipSense! I went through their exfoliating process that they talk about and it still doesn't last for me and stings my lips!! You have to keep applying the gloss throughout the day so that the lipstick stays and doesn't crack and flake. The color doesn't come off when you kiss, eat, or drink, but I'd rather just keep applying something that actually moisturizes my lips....read more Scrubbing it off is a nightmare, and the remover doesn't work that well. After using it for a few months, I just can't love this stuff. It's so pretty when you first apply it, but the upkeep and removal SUCKS. It also tastes horrible.

Back
to top