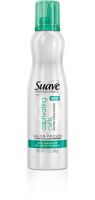 Softest Mousse I've Ever Tried

I love this product because it doesn't make my hair all sticky and matted down like some others can. I have fine curly frizzy hair and it tangles easily. It can be very hard to manage especially living in such a humid area. This doesn't weigh down my layers and make my hair flat. It helps to reduce the amount of frizz and to define the curls with a flexible hold. It's very inexpensive too. If I we...read morear my hair down this is what I'll use in it. It kind of smells like strawberries too. Very sweet and nice. I would say it is definitely worth a try.

I love this mousse!

It took a few tries to get this mousse to work for me, but now that I've figured it out, I am in LOVE! I have type 2a wavy hair, fine, medium thickness. The first couple of times I used this, the results were not impressive. My hair was limp and flat with no more wave than if I had done nothing to it. BUT it was also soft and shiny and what few waves I had were nicely defined. Here's the metho...read mored that works for me: After showering, I squeeze the excess water from my hair, then put in 1-2 golf ball size dollops. I rake it through, scrunch by hand and with an old t-shirt to make sure all the white streaks are gone, then I plop it for 30 minutes in a microfiber turban towel. (If you're a wavy and don't know what plopping is, look up some YouTube videos on it. It makes a huge difference!). Then I take it down, and arrange my hair the way I want it and spray some Suave captivating curls spray gel on it for hold. If I have time, I'll diffuse it a little bit and spritz some Suave Volumizing spray at the roots and dry the roots a bit and I'm good to go! My hair comes out in beautiful, beachy waves. The second day, all I do is spritz some water and spray gel on my hair and scrunch it a little and I'm done. So far, my hair has looked even better on the second day than the first for some reason. Definitely give this a try and play with it if it doesn't work for you at first. I will say, that for my hair type, it did not give me much volume, which is why I use the volumizing spray. But all the products are so cheap, that I don't mind using three.

Amazing hold for the price

I am one of those women that has super thick, frizzy curly hair that has been a life long battle. I am always trying new products in search for the "miracle" that will control my hair! My husband picked this one up on a whim because it is priced so well and compared to Redken. The hold is amazing, It gives all around control, a little goes a long way, it smells great. I now have a pixi cut which I...read more love and I still find myself reaching for this stuff to calm my hair down into the cute side part i like. I have tried high and low end... this stuff just works.

Back
to top