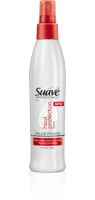 protection? eh, smell? nice

I probably only continue to use this product becasue of its scent when i spray it on my hair; kind of smells liek grapes, but not in an aussie kind of way, just asweet smell. Unfortunately, the scent doesnt really last. I cant say ive noticed heat protection, me hair that i often flat iron and curl-wand still is looking pretty dry and fried, but it does appear somewhat shinier right after blow ...read moredrying. I use a few different after-shower hair products, though, so i cant necessarily attribute the shine to this product. Its cheap, but not sure its worth it..

Fantastic

I got this at walmart for $2.50! It works great and also smells great.

Great bargain. Might be better products out there

I bought this because of the price tag. It's hard to tell how well it protects my hair because I blow-dry using a low heat setting and use a separate product when I use the straightener. When I do use a higher heat setting on the blow dryer, my hair always comes out soft and shiny. There may be better products out there, but it does well enough for what I need it to. Great value. Pretty good scent, too.

Back
to top