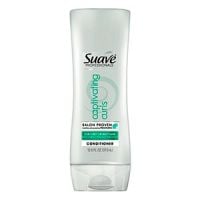 A Great Partner to the Shampoo

This conditioner that pairs well with the shampoo smells great and leaves soft, bouncy curls and waves. Salon quality at a drugstore price. Awesome!

Great For Mutli-Cultural Hair! Great For Co-Washing!

I love this conditioner! For me to be Ethnic-Biracial, I recommend this for any woman who has very tight curls or they are going natural while in transitioning of growing their relaxer out. This also good for co-washing also. When I do the co-washing method for my hair, first I wet my hair as wet as I can get it, next I take the conditioner and apply it to my hair while it's wet, I will work the c...read moreonditioner in my hair like I am lathering it with shampoo to get the very creamy feel (I recommend doing this twice when you are in the process of co-washing). Then after I rinse this out of my hair, I will apply this conditioner back in my hair for my deep conditioning process with a plastic processing heating cap ( If you have very THICK hair, like myself, I suggest you leave this on for an hour or hour and a half. The thicker the hair, the more you have to apply.) After I leave this in my hair for an hour, I rinse, wrap my hair, tie with a SILK or SATIN scarf, and I will air dry. This is better than blow drying because you won't have to worry about heat damaging. When you are done, style your hair as desired. Trust me ladies, your hair will thank you and be happy for all the TLC. This product by far is worth the price!

Great!

I think of the Captivating Curls line this is my favorite product. It conditions wonderfully after using the matching shampoo. The smell is great, and it doesn't leave a gross residue on my curls or scalp. Plus the price is just fantastic and unbeatable. Highly recommended!

Back
to top