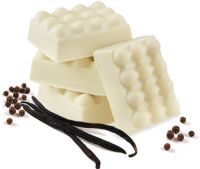 Lush Hottie Massage Bar
As low as
Love the product, but the scent is just okay.

The Hottie massage bar has a peppery musky scent to it. While I don't LOVE the fragrance, it did grow on me, and I find it alright. I LOVE the nubs, which feel great during a massage. The bar melts easily (some might say too easily, but I expected a little mess), and has a nice smooth texture. It is a little messy post massage, and you'll need to towel off or shower afterward. It leaves your skin ...read morefeeling super moisturized, but won't break you out. It is unfortunate that there isn't a LUSH tin that is big enough to hold this bar though... cuz you'll need something to store it in. It lasts awhile too--you only need to use a little for each massage because the oil stays nice and slick and doesn't get sticky or require more to be applied. Overall, I like it and might even buy it again, but will definitely continue to buy some of the other massage bars from LUSH!

Perfect for Couples

I love this product! It's a solid massage oil, but not nearly as messy. The nubs feel great and it leaves your skin soft. I really liked the scent, and it made my whole room smell nice. It's not sticky and stays nice and slick, we did need to shower afterwards because it's so long lasting. My husband and I had a relaxing time with this product.

love love love love!!!!!! smells amzing!!!

Back
to top