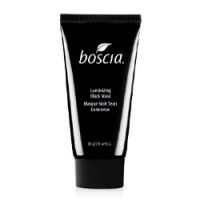 Boscia's Black Mess Requires a Lot of Labor

"Anxious" is an understatement about my feelings to try Boscia's "Luminizing Black Mask." I had read about the ingredients--a premier clay containing sixty-seven minerals works to purge your complexion's pores of oil, grime, makeup, and any other residue (it brought to mind an excellent charcoal-based shower gel by DHC which leaves face and body cleaner than clean!). This also contains Vitamin C...read more for overall skin health and witch hazel, a natural anti-inflammatory and antiseptic to kill blemish-causing bacteria. My face is in good shape and I am grateful; sometimes I just want a "fresh start" and thought this would be it. I know to use a good amount of a peel-off mask, as I sold Avon for many years and used all of their masks. I had never had a bad experience. Unfortunately, Boscia was another story. The deep, dark color took me aback at first. It becomes difficult to work with quickly (it starts to harden somewhat), so you have to spread it as gently and fast as possible, avoiding the eye area (especially eyebrows, as it will entangle itself in small hairs). The problem was that after twenty minutes half of the mask had dried and half hadn't. I didn't want to overdry my skin, but I left it on for several more minutes so I could attempt to peel it away. That was much more difficult than peeling Elmer's Glue from my hands as a child (Volta--how did you know I did this? I can't stop laughing!). Between attempts at peeling and lots of warm water, I did eventually rid my complexion of this, but it was far too much work. The results were nice--not exceptional--and certainly not good enough to warrant the cost of this or the labor involved. The next time I have an urge for a "fresh start," I'm going to save the $34 and buy something I know which works from the drugstore.

Not Good

This is the worst mask I have ever used. Yes, it's black, but big deal. I followed the instructions on the box, and made sure I put on a thick layer, avoiding the eyebrow and eye areas. It is very sticky, which felt awful. I let it dry for 30 minutes, and it never peeled off. It simply was not going to peel, and I had enough of the product on my face so it should have peeled. I did apply it ...read moreto clean skin. I ended up having to wash it off, and I did not see any luminizing at all. In fact, I noticed no change. My skin looked the same. I have used other masks where you can actually see the visible changes in your face. Not this one. I do not recommend this.

Bittersweet experience

The concept seems fun to play with, but this reminds me why I haven't favored peel-off masks in the past. Even though it's a fun color (jet black), it reminds me of when we were kids and how we used to put Elmer's glue on the back of our hands (you know you did that)--except it was FUN to peel off the dried glue in the end. This becomes very tacky very quickly, so you have to get in onto your face...read more and spread it quickly. Wait about 15-20 minutes until it dries, depending on how thick or thin you put it on. Make sure you have washed your face beforehand. Here's the BIGGEST tip, you have to put on a thick layer in order to ensure the easiest way possible of peeling it off once it dries. I learned that the hard way and it took me AGES to peel off tiny bit by bit until I tried again with a thicker layer. It kind of helps to smile or scrunch up your face to peel this off, it makes it much easier. As instructed, make sure you put this on below your orbital bone as it can become quite inconvenient and tender to pick it off with your nail within this area. Also, make sure you follow the instructions and avoid putting it over ANY hair, as this can peel out hair kind of like a mini-wax. So ladies and gentlemen, I CANNOT stress how important it is to make sure that you do not put this near your eyebrows. The decent thing about this mask is that any leftover traces can be washed off with warm water (kind of defeats the purpose of a peel-off mask when it's easier to just wash your face). You may or may not need to exfoliate after using this to make sure you get all the product residue off your skin. Normally I've enjoyed Boscia products but I wasn't a huge fan of this. I've very lucky that I received a large deluxe sample from Sephora because I would not bother spending my money on this. Yes, it does make your skin luminize after using it, but so does a good exfoliation. I'm perfectly happy spending $4 on a facial mask that I can simply wash off, but has always been tried-and-true for me with good results. So honestly, this product isn't for everyone, so you might like it more than I did.

Back
to top