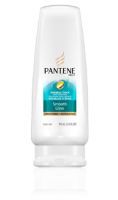 Editor's Rating & Review
This hefty, silicone-y smoother (a reformulated version of Smooth and Sleek) banks serious moisturizing power. Thick- or coarse-haired women will find their frizz reborn manageable. It makes drying thick hair noticeably easier, though who can really tell if it's "75 percent smoother," as the label claims? Those with fine, thin hair will find the overall weight of the conditioner too heavy. Overall, a good value and impressive performance against competitors.
Reviewed by beth on 11/13/2007

How we review products
I like it.

I have very thick, frizzy, damaged, unmanageable hair and this works well. It works best with the shampoo it's paired with. I like that it's thick. I leave it in my hair for 2-3 minutes every time I'm in the shower and it does overall help to make my hair more manageable and smoother. I've been using several bottles of this since Pantene revamped the line, I probably won't be using anything else for a while.

Lovely

This product leaves my hair feeling smooth and moisturized. It has a nice scent and lathers well. I do find that after continued use my hair can feel a bit weighed down, so it might be prudent to use a clarifying shampoo every once and a while.

Great Conditioner

I really love this conditioner because it makes my hair feel really soft and shine. It is therapy for my ends and really hydrates. I use this a few times a week and it adds life to my hair and doesn't weigh it down.

Back
to top