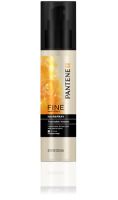 touchable lasting results

this is the first time to use amd I highly recommend it for it's touchable results don't make you feel weighed down znext it really holds the hairstyle for hours in all types of weather next it adds alot of volume to hairstyles love it i am hooked on it already Karly

Too Sticky

I decided to switch from my usual hairspray (bumble and bumble classic) and try a cheaper brand, but now I know why I pay more for hairspray. THis was awful! It was horribly sticky and heavy and did not give touchable hold (very "hard"). I will definitely be going back to my good dependable, soft and light (but with great hold) b&b classic!

Makes my hair feel coated

Even my hairdresser told me my hair felt greasy and coated. Normally my hair is dry or normal, but this made it feel so greasy and disgusting. Yuck!

Back
to top