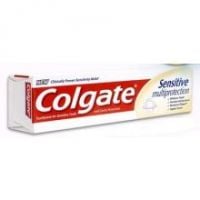 Colgate Sensitive Toothpaste
As low as
Works!

This really helps with my tooth sensitivity. I use it about once a week and it has really helped. The only thing is that (like many sensitive tooth pastes) this can change the color of your teeth. It really accentuated the yellow of my teeth and made them look dull. That is why I switch this out with a whitening toothpaste.

Excellent for sensitive teeth

I had very sensitve teeth for awhile. My dentist first recommended sensodyne, which did nothing for me and it tasted terrible. After another discussion, he said maybe I should try this then. In only a couple days, the sensitivity started to go away. It took less than two weeks before it was completely gone. Unfortunately, after a couple months of using this, I switched back to my old toothepaste. ...read moreA couple days later the sensitivity was back. Back to this I go. Been using it for about a year now and have no issues. I get four cleanings a year and my dentist has noticed no weird changes in my tooth or gum health. The flavor is kind of bland but not horrible, but the toothpaste does its job. I only give this a nine because of the flavor. Otherwise it would be a ten.

Back
to top