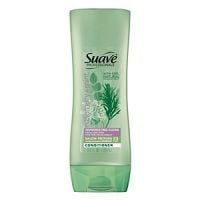 Just as GOOD as Aveda !!!!

Okay so i bought this at first because Aveda was pricey for their rosemary mint conditioner . The thing is i could't help but keeping asking myself is this just as good as Aveda. Guess What! It is i promise you it does the same job. My only problem was the scent wasn't as strong and long lasting as Aveda's Conditioner. This is diffidently the best affordable route to go !

OK

I love the Suave Rosemary Mint Shampoo, but the conditioner is just ok. I should have known better because I feel the same way about the Aveda version of the conditioner. Just like the Aveda version, it doesn't do a whole lot of conditioning. It does smell great, though. I did, however, figure out that it makes a wonderful smelling gel for shaving my legs in the shower.

My New Favorite!!

There are silicones but they are the kind that evaporate as your hair dries, so no build up so far ( I co wash). Its thick but lightweight My hair just soaked this up and it adds some nice hydration. I love the clean tingling feeling I get when I co wash with this! This conditioner has transformed my hair from dry and dull, to soft hydrated bouncy touchable, healthy hair. I hope that they never ...read morestop making this!!!! The smell of this reminds me of wen sweat almond mint. I used for awhile but the price was to high and co washing gives me the same results for way cheaper.

Back
to top