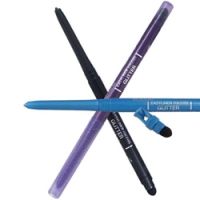 Milani Eyes Glitter Retracdtable Eye Liner
As low as
Fun, Fun, Fun!

I was looking for a purple eyeliner to really bring out my brown eyes and I found one! This is such a fun eyeliner. It is super easy to apply, has a smudge tip at the end and just the right amount of "sparkle" - which, by the way, did not end up all over my face! Big plus. It is a reasonable price (around $3-$4) and made me feel fun and sexy. It even made my eyes sparkle, without being too obvious of the glitter. Highly recommended! Have fun.

Totally rocks

First time I used sparkly eyeliner was with this. I got some glittery silver to match a dress. Turns out, it really didn't have to match anything! The first day I wore it made me fall in love! I would've gotten all the colors, but I only found silver. I really love how the sharpener is just behind the smudger for an easy reach. It's the cheapest eyeliner I've had and it really is better than some of those expensive stuff. I so love this eyeliner!

Really Great!

I needed black eyeliner quick on a budget and this totally helped! The sparke was great, and color stayed for a long time! I found black was too intense for my eyws so I'm planning on getting the brown!

Back
to top