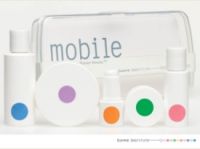 Somme Institute MDT5 Mobile
As low as
Absolutely Fantastic

I really can't say enough great things about this kit. I bought it through a discount sample sale on a bit of a whim, but I always look for new skin regimes to try because I have a tough time finding products that actually work well for me. I have fair, generally normal skin that is on the dry side (Also to note, I'm in my late 20's). I don't have any skin issues besides the occasional few small p...read moreimples and dry patches. However, when I do get a pimple or black/whitehead, I have the terrible habbit of popping them, thus leaving me with brown spots (I can't help it!). So, my main goal of skincare regimes is to even out my skin tone, get ride of my dryness/flakyness and brighten/eliminate my brown spots. This kit provides 2 weeks worth of treatments if used twice a day, but I only used it once a day to stretch the use. as it's not the cheapest (but if you look around online, you can find some great deals). I did the 5 steps diligently the entire time, which really doesn't take more than 10 minutes at night. After 2 treatments, my skin felt significantly softer and smoother. After 1 week, it was even smoother, there was a noticeable difference in my dark spots, my skin tone appeared more even and I started getting that nice "dewey" look. I develope a few small whiteheads during the first week, but I knew this might happen from reading up on this system - it is just your skin purging the crap out of your pores. The whiteheads went away in a day and were hardly noticeable. After using the entire kit - approximately 3 weeks - I can hardly find where my dark spots were, my skin literally glows, my tone is the most even it's ever been (in my adult life :) ), the dryness/patchiness is 90% better, I haven't seen any new zits pop up and it evened brightened up my dark circles. This has made my skin so much better that I haven't needed to use my liquid foundation, just a light swipe of my mineral powder. I have used countless products over the years and have never had results like this. Granted, I don't have any MAJOR skin issues, but I haven't been able to find a product that has taken care of the issues I do have until now. After I finished this kit, I searched high and low to find discounted prices on the full-sized products (A-Bomb moisturizer retails for $70, pads for $58, serum for $82, cleanser for $40, this kit for $85, 1 week supply - 2 weeks if you use once a day - for $50) which I did, and bought everything except for the last step, the double defense moisturizer. I didn't use that step much after a week, simply because I didn't feel I needed it, but since I didn't finish it, it has earned a spot in my purse for dry skin emergencies, which happen to me every so often. I suspect come summertime when I'm outside more often, I will be using it regularly as it contains an SPF (the A-Bomb does not). I am totally hooked, I have gotten some of my friends hooked (with great results so far, too) and if you are on the fence about getting it or are looking for something new, get this. It is absolutely worth it and you will not be sorry...you'll be amazed. Like I mentioned before, look around online because you can definitely find these products on a discount, and if you just want to test it out, look for/google the 1-week (remember, 2 weeks if you use once a day!) "pillow pack" and you can find a bunch of sites that have it for $25 (I ordered from 2 seperate sites with this price for my friends, so it's totally legit). I also ended up buying 2 brand new Mobile kits on ebay for less than $30 too. (also a major bonus for travelling - all of the bottles in both kits are within the TSA guidelines and very easy to travel with as well) I know this is a majorly long-winded review, but I always read reviews before I buy and want to know as much as possible, so I hope this helps someone out there. Definitely check out Somme's website to learn about the ingredients and mechanisms in these products, because it's pretty fascinating. I have now been using this stuff (minus the 2nd moisturizer) for 3 months, my skin has never looked or felt better, and I don't need/use/buy any other products for my face besides these. It is incredible and worth every single penny.

Best regimen ever!!!

When a friend of mine suggested using the Somme regimen that did wonders to her skin, I was suspicious. But now, after only a month of Somme, I couldn't agree more that this is the best regimen ever! My skin feels smooth and silky to touch and looks even better. I've had visible sun damage above my lip, on my forhead and nose that already looks much better. The regimeen is a little pricey, but it's deffinetely worth it!

Most Amazing Skin Care Line I Have Ever Used

I was introduced to Somme at the Mandarin Oriental and have been using the products for six months. I'm 32 and have never had dewy skin like this before - you can see and feel the difference with just one use. The system has made my skin look and feel its best ever. I have rarely paid my skin the attention it deserves but I actually enjoy going through the steps and taking the time to care of m...read morey skin. If you have to skip a step here and there in the morning, use the Nourishing Cleanser and A-bomb. It's truly amazing & it's makes my day when a new Somme package arrives in the mail!

Back
to top