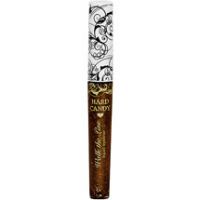 Mediocre.

I own this in Licorice, which is a dark grey with multicolored glitter. It's inexpensive, and the packaging is cute, and the applicator is decent. There are also some fun colors to choose from. But, it takes a LONG time to dry (increasing the likelihood of smudging/smearing), and the pigmentation wasn't very good. When I layered it, it looked better, but it just took too much time waiting for it t...read moreo dry. I was disappointed, and won't be repurchasing this particular shade. Maybe some of the pure glitter ones?

wow

i got this as a free sample with a hard candy eyeshadow. i got the sample in black......here we go........i love the packaging but, it is so hard to put on. i have had many liquid eyeliners before and its just that i dont like the tip, i lose control of it.... it makes me look like a raccoon;[ frowny face

Terrible

I bought this in green to use with a poison ivy costume. I thought that it would give my eyes a nice pop of green. Instead it is so subtle it isn't even worth it. Don't waste your money.

Back
to top