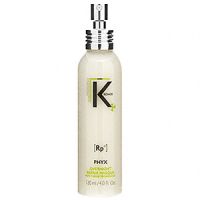 Kronos PHYX Overnight Repair Mask
As low as
Very good product

I just received a sample in the mail and so far so good. I like the way it smells but it will leave your hair with a very greasy feeling. The only problem with this product is the price. I am not willing to pay aver $100.00 for it. I don't think my hair is that damaged.

Brought my hair back from the dead

I was facing a situation where I needed to get my hair cut off due to severe chemical processing. Years of coloring, highlighting and perming my hair had finally caught up with me. As a last-ditch effort, I bought the Kronos kit which includes the PHYX Overnight Repair Mask. It smells nice and sinks in immediately so no worries about staining your pillowcase. The next day, I felt like there wa...read mores some improvement and let me tell you---the state my hair was in, I had tried every professional product out there with no noticeable results. I can't really rate the effectiveness of this product on its own, but when used as part of the Kronos kit, it is fantastic! You MUST follow the instructions and stick with the products though. I have a tendency to move on to something else if miracles don't happen immediately. Within a week, my hair had made enough of a comeback that my stylist didn't think I had to cut all my hair off short. By week two, bounce and shine returned to my dull, brittle locks. Week 3---no breakage on my counter when styling my hair and very minimal hair loss in the shower. By Week 4 ---returned to my stylist and she asked me what I'd been doing differently. I didn't have the heart to tell her that it wasn't the Aveda line she sells ---which is also great.

The BEST OVERNIGHT TREATMENT ON THE MARKET!

It changed the way my hair looks in two weeks! LOVE IT, LOVE IT LOVE IT! Use it in conjuction with Kronos shampoo and conditioner and you will thank me! My hair is bouncy and alive again!

Back
to top