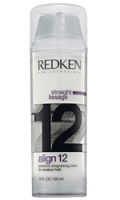 Good Product!

This works as well as any other straightening balm. It prevents my hair from frizzing. What drew me to it was that my stylist put some in my hair before she dried it and I loved the smell so much, that I bought it on the spot!

It does the heavy work for me

Redken hit another home run with its align 12 product. I use it after towel drying my hair, but remember a little bit goes a long way. By sectioning off my hair and using a teeny bit in each section I make sure I get an even amount of product throughout my hair thus avoiding any oily or greasy spots from too much product. I try not to blow dry my hair if I can help it which can make straightening...read more my hair tricky. I found if I use this product then sit in front of my fan and use my comb to brush through it does a good job of keeping my hair straight while preventing damage caused by heat. If you haven't tried this product it is worth every penny and does a better job than some products twice as expensive!

Releases waves

I am a heat-phobe, so when I want a straight, sleek look but need to blow dry my hair, I reach for this. It does not give me pin straight hair, but it releases the waves enough that I do not need to use my flat iron. And I love that it has heat protection. Does not weigh hair down or decrease volume. No greasy feel or smell. Does not dry out hair. Overall Im impressed with all of Redkens styling products.

Back
to top