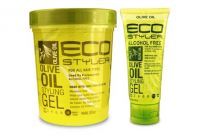 EcoStyler

You can find EcoStyler gel at Dollar General. For those of you with little success: I wash and condition my hair. I use Softer on my scalp. I add the gel to mt WET HAIR. Water conditions your hair, not the product. Conditioners draw moisture to your hair and traps it in the shaft. Let your hair air dry. I have type 4 hair and my hair is fine even when it rains. I braid my hair in cornrows quick...read morely so it will dry in a nice pattern. Just be sure not to use too much gel or it WILL flake. Be sure to comb it through as well. Jesus saves! T. W.

Review subject

This is a good gel, but like another reviewer said, you should use it with other moisturizing products. I usually use it after sealing my ends with aloe vera gel and using the shea moisture curl enhancing smoothie. The reason I didn't give 10 stars is because it flakes a tiny bit when you use too much, which isn't a total deal breaker because I just use less!

Review subject

I really don't know what all the rave is about Eco Styler ! I tried it, and it made my hair look awesome :) Although 10 mins. later my hair said....Helpppp I'm thirsty :( In my opinion, if you have to use product, on top of product just to lock in the moisture...Isn't it defeating the purpose of using Olive or Argan oil in the ingredients ! Eco Styler gets 2 stars for great smell, also for making my hair happy for 10 mins.

Back
to top